Modular platform simulating an urban environment for applied and fundamental research projects
Expertise
Creation of evaluation protocols under controllable and reproducible environmental conditions
Behavioral analysis of locomotion, spatial localization, object search and grasping and face recognition tasks
Expertise in technological tools for motor and visual behavioral analysis
Extra benefits
Visual and audio immersion
Advanced lighting control
Motion analysis: Biometric sensors (Vicon cameras)
Eye gaze analysis: Oculometer (Mocaplab, SMI, Ergoneers)
Handiglaucome
In a study conducted with glaucoma patients, we evaluated the impact of glare during a mobility activity. The main conclusion was that glare-related disability was observed in patients with moderate and severe glaucoma and had an impact on their mobility performance.
Publication : Bertaud et al., 2021, Glare and Mobility Performance in Glaucoma: A Pilot Study, Journal of Glaucoma. Lien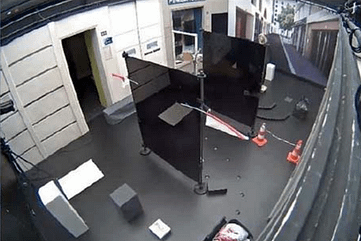 ---
LIGHT
Neparvovec voretigene improves functional vision in hereditary retinal dystrophy: the one-year LIGHT real-world study.
This video shows two patients navigating the Streetlab mobility course before and after treatment with voretigene neparvovec.
---
Pixium Vision
Evaluation of the therapeutic benefit of retinal implants in relation to activities of daily living.
Publication: Palanker et al., 2022, Simultaneous perception of prosthetic and natural vision in AMD patients, Nature. Lien