The simulator allows the participant to be immersed in a realistic and controlled experimental environment
Expertise
Design of original test scenarios
Analysis of visual behavior and strategies during driving
Development and evaluation of driver assistance system interfaces dedicated to visual impairment
Extra benefits
Development of flexible and customized scenarios
Analysis of objective driver and vehicle data
Portable driving simulator
Evaluation of the impact of visual-attentional deficits
Measurement of head and gaze movements with SMI glasses and Optitrack sensors
Examples
HandiGlaucome
Behavioral study of glaucoma patients. Our results show that patients exhibit unsafe driving behaviors, despite their driving and eye-scanning compensations.
Publication : Adrian et al., 2022, Driving behavior and visual compensation in glaucoma patients: Evaluation on a driving simulator. Clin Exp Ophthalmol.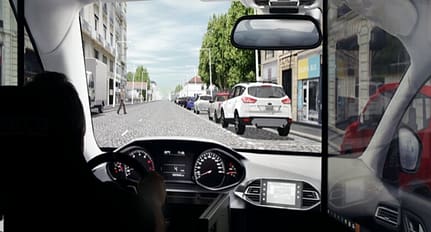 ---
FIA
Study of the effect of impaired vision on race car driving, where drivers were tested in a simulator under various degraded visual conditions.
Publication : Adrian et al., 2019, Implications of monocular vision for racing drivers. PLOS ONE, 14(12), e0226308. https://doi.org/10.1371/journal.pone.0226308
---
Advise
Development and evaluation of a driving assistance interface (blind spot detector) for early visual deficits occurring during aging.
Publication : Adrian et al., 2017, Blind Spot Warning Interface Adapted to Older Drivers with Early Stage Visual Impairment. 25th Enhanced Safety of Vehicles Conference.